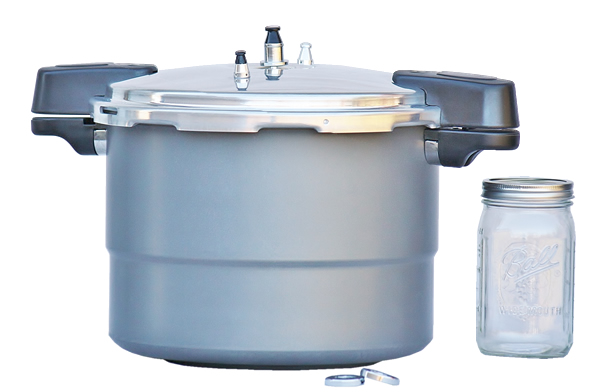 20 Quart Liquid Capacity
Inside diameter - 12 1/2 inches
Inside Height - 9 3/8 inches
Overall Length - 19 inches
Overall Height - 12 1/2 inches
Columbian Home Model F0730-2



C6282859
Out of Stock

GraniteWare, the leader in water bath canners and enamel cookware, is proud to introduce their 20 Quart Pressure Canner. It elevates food temperature to 240 degrees Fahrenheit, enough to sterilize even low-acid foods by killing bacteria and botulism spores. This canner comes with a 3-piece pressure regulator, which allows you to select 5, 10, or 15 pounds of pressure, as well as a wire canning rack. Additionally, a convenient steamer insert can be used to make huge batches of tasty vegetables. Safety features include locking handles, two safety valves (spring-loaded and whistling alarm), and a hard, anodized steel construction. This GraniteWare 20-Quart Pressure Canner is just right for your kitchen!

Note: This canner includes an instruction manual

Note for Gift Buyers: This item ships in its factory box. The outside of the box has a label which states the contents.

To find replacement parts for this model,
click here.
How often should I replace my rubber gasket?

5, 10 & 15PSI pressure controls
2 safety valves (1 spring-loaded, 1 whistling alarm)
Locking handles.
Hard anodized construction
Includes 3 piece pressure regulator, wire canning rack, streamer insert, and instruction manual
To compare this pressure canner to our other models see our
Pressure Canner Comparison Chart
Interested in a pressure canner without a gasket?
Click here!
Jar Size - Capacity
4 Oz. Jar - 24 (double stacked)
Regular Half Pint Jar - 24 (double stacked)
12 oz. Jar - 12
Regular Pint Jar - 8
Wide Mouth Pint Jar - 7
Pint and a Half Jar - 7
Regular Quart Jar - 7
Wide Mouth Quart Jar - 7
Half Gallon Jar - 4