All American Blue Pressure Cooker 21 Quart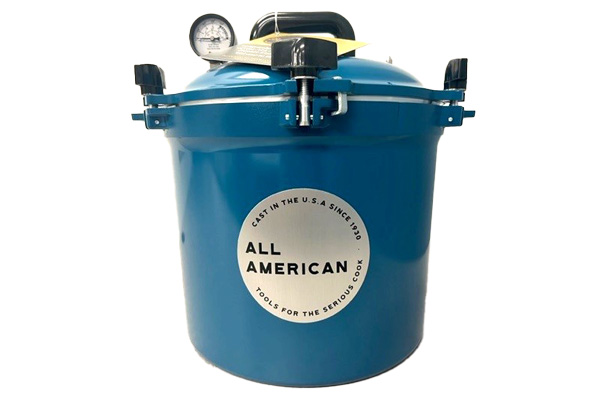 21 1/2 Quart Liquid Capacity
Inside diameter - 12 5/8 inches
Inside Height - 10 1/2 inches
Overall Length - 15 inches
Overall Height - 16 inches

1 Year Limited Manufacturer's Warranty


OpcAA921BL


Our 21-Quart All American Pressure Canner in a beautiful Berry Blue color is just the right size to preserve your garden harvest. This is our best-selling pressure canner, and suits almost everyone's canning needs. If you want, you can even use it to prepare plenty of delicious food for your family. The proprietary, premium cookware grade colored coating is cured to be durable and the color of this pressure cooker will compliment most any kitchen. It is constructed from heavy-duty hand-cast aluminum with double-thickness edges, which permit quick, even heating. All-American's exclusive metal-to-metal seal completely eliminates the need to replace worn-down or damaged rubber gaskets. Positive-action clamping wing nuts create an easy-to-open seal, and two automatic vents, a safety control valve, an overpressure plug, and a stay-cool handle ensure safety. Finally, a geared steam gauge and a pressure regulator weight with 5, 10, and 15 psi settings make canning at the perfect pressure easy! This canner will last for generations as a staple in your kitchen. We also offer a canning kit with what you need to start canning.

Note: This pressure canner includes an instruction manual and two cooking/canning racks.
Made in the USA.

To find replacement parts for this model,
click here.

Crafted of the finest hand cast aluminum.
Stay-cool bakelite top handle.
Geared steam gauge.
Pressure regulator weight with settings of 5 psi, 10 psi and 15 psi.
Smooth, easy to clean satin finish.
Exclusive metal-to-metal seal - no gaskets to crack, burn, replace or clean.
Double thickness edges for additional protection on points of heaviest wear.
Automatic overpressure release.
Want to compare pressure cooker models? Check out our
Pressure Canner Comparison Chart
Jar Size - Capacity
4 Oz. Jar - 36 (triple stacked)
Regular Half Pint Jar - 24 (double stacked)
12 oz. Jar - 13
Regular Pint Jar - 19
Pint and a Half Jar - 8
Regular Quart Jar - 7
Wide Mouth Quart Jar - 7
Half Gallon Jar - 0
Interested in a pressure canner with a gasket?
Click here!
You Might Also Like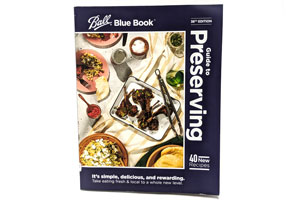 Ball Blue Book
$12.99

Item #: Opcb21411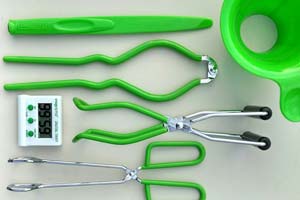 Presto 7 Function Canning Kit
$18.99

Item #: Opc09995