Granite Ware Water Bath Canners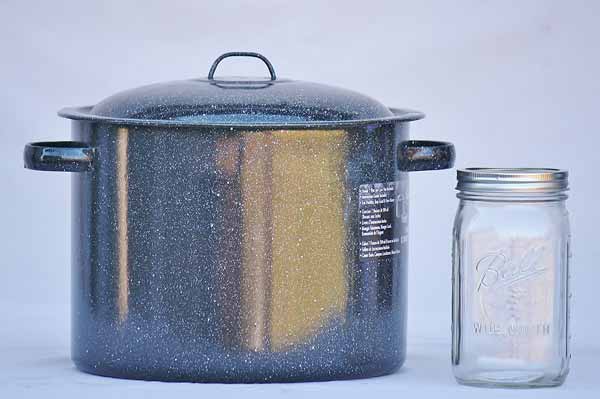 11 1/2Qt. canner measures - 12.75 x 12.75 x 17"

Jar Size - Capacity
4 Oz. Jar - 7
Regular Half Pint Jar - 8
12 oz. Jar - 8
Regular Pint Jar - 7
Wide Mouth Pint Jar - 6 21Qt. canner measures - 15.5 x 15.5 x 15"

Jar Size - Capacity
4 Oz. Jar - 12
Regular Half Pint Jar - 13
12 oz. Jar - 10
Regular Pint Jar - 9
Wide Mouth Pint Jar - 8
Pint and a Half Jar - 8
Regular Quart Jar - 7
Wide Mouth Quart Jar - 7 33Qt. canner measures - 18.375 x 18.25 x 17.5"
(33Qt canner does not have handles)

Jar Size - Capacity
4 Oz. Jar - 14
Regular Half Pint Jar - 13
12 oz. Jar - 14
Regular Pint Jar - 9
Wide Mouth Pint Jar - 9
Pint and a Half Jar - 10
Regular Quart Jar - 9
Wide Mouth Quart Jar - 9
Cooks faster and cleans easier
Canner is dishwasher safe
Hand wash and dry rack


Features Graniteware's speckled porcelain-on-steel that is lightweight, durable, stain, acid, and odor resistant and easy to clean. Includes wire rack with handles.
These canners are designed for water bath canning. They are not recommended for other uses. Cannot be used with 1/2 gallon jars. 11 1/2Qt. canner only holds half pint or pint jars. 11 1/2 Quart and 22 Quart have Side helper handles; 33 Quart does not have side handles.
High domed vapor seal cover with handle, two side handles
Complete with galvanized wire rack
Mediterranean black, with white spray enameled finish
Please note: Not for use on glass, flat top or ceramic cooktops.


You Might Also Like
Regular Mouth Ball Quart Canning Jars (12 Jars)
$11.49

Item #: B31121627
Ball Regular Mouth Lids (12 count)
$2.49

Item #: B31121692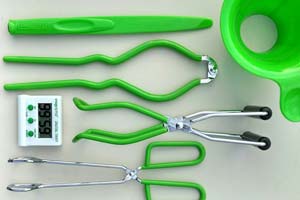 Presto 7 Function Canning Kit
$18.99

Item #: Opc09995