Mirro Pressure Canner 22 Quart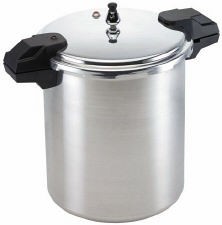 Specifications:
22 Quart Liquid Capacity
30 Half Pint Jars*
16 Pint Jars*
5 Quart Jars
* Requires use of additional rack for this capacity
Inside diameter - 12 inches
Inside Height - 11 1/2 inches
Overall Length - 18 5/8 inches
Overall Height - 13 3/4 inches
10 Year Limited Manufacturer's Warranty
Mirro Model 92122A
Jar capacities are based on standard Mason jar sizes.

Opc92122A


Purchase Replacement Parts for this Model Here

Fast and economical while being safe and easy to use. This versatile canner includes 5, 10 & 15 PSI pressure controls for a wide range of pressure cooking and canning. Preserves food up to 70% faster than water bath canners; which comes in handy when you need to save time in order to accomplish large amounts of preserving.
Three separate safety features - Over pressure gasket release window, Over pressure release valve, Locking handles.

Features:
5, 10 & 15 PSI pressure controls.
Not for use on glass or ceramic ranges.
Pressure monitoring gauge.
Over pressure gasket release window.
Over pressure release valve.
Locking handles.
Aluminum construction.
Includes two cooking/canning racks, instruction manual and recipe book.
To compare this pressure canner to our other models see our
Pressure Canner Comparison Chart

Gift Buyers:
This item ships in it's factory box.
The outside of the box has a label which states the contents

Please note:
Mirro Pressure Canners are
NOT
recommended for use on glass top/flat ranges.
They are manufactured with a concave bottom, meaning a large area of the bottom is not in contact with the heat source.
This will prevent the transfer of heat and not allow the cooker/canner to come up to pressure if used on a flat top range.
You Might Also Like
92516 Gasket
$15.99

Item #: Opc92516

Ball Blue Book Guide to Preserving
37th Edition
$8.99

Item #: Opcb21411

Presto 7 Function Canning Kit
$18.99

Item #: Opc09995