Mirro Pressure Cooker 6 Quart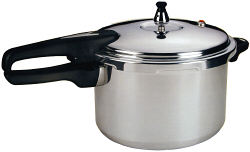 6 Quart Liquid Capacity
Inside diameter - 8 1/2 inches
Inside Height - 6 1/4 inches
Overall Length - 17 1/4 inches
Overall Height - 9 1/4 inches
10 Year Limited Manufacturer's Warranty
Mirro Model 92160

A29867


Purchase Replacement Parts for this Model Here

Looking for a fast way to cook healthier? Then a Pressure Cooker is just the thing for you. This cooker cuts cooking time by as much as 70% and it retains healthy nutrients that are lost in conventional cooking.
Automatic control at 10lbs. Locking Handles. Safety Over Pressure Valve, Overpressure Safety Window, Tight Sealing Cover Gasket. Aluminum alloy. Instruction/recipe book included.

Features:
10 PSI pressure control
Pressure cooking cuts cooking times up to two-thirds!
Pressure cooking retains nutrients lost in conventional cooking
Uses a Triple Safe Design, which features a reusable safety over pressure valve, sure-locking lid system and overpressure safety window
Dishwasher safe.
To compare this pressure cooker to our other models see our
Pressure Cooker Comparison Chart

Please note:
Mirro Pressure Cookers are
NOT
recommended for use on glass top/flat ranges. They are manufactured with a concave bottom, meaning a large area of the bottom is not in contact with the heat source. This will prevent the transfer of heat and not allow the cooker/canner to come up to pressure if used on a flat top range.
You Might Also Like

Presto Pressure Cooker Cookbook
$16.59

Item #: Opc59659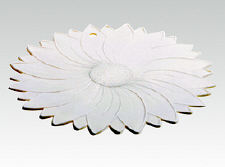 Non-Slip Rubber Jar Opener
$1.29

Item #: Orh597

Hand Held Potato Masher
$4.99

Item #: Opc6147