Granite Ware Water Bath Canners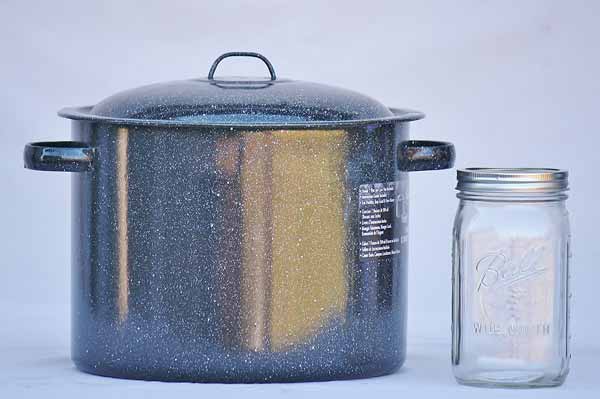 11.5Qt. canner measures - 11 3/4" diameter x 7 1/2" tall

Jar Size - Capacity
4 Oz. Jar - 7
Regular Half Pint Jar - 8
12 oz. Jar - 8
Regular Pint Jar - 7
Wide Mouth Pint Jar - 6 21Qt. canner measures - 14" diameter x 9 1/2" tall

Jar Size - Capacity
4 Oz. Jar - 12
Regular Half Pint Jar - 13
12 oz. Jar - 10
Regular Pint Jar - 9
Wide Mouth Pint Jar - 8
Pint and a Half Jar - 8
Regular Quart Jar - 7
Wide Mouth Quart Jar - 7 33Qt. canner measures - 16 1/2" diameter x 9 1/2" tall
(33Qt canner does not have handles)

Jar Size - Capacity
4 Oz. Jar - 14
Regular Half Pint Jar - 13
12 oz. Jar - 14
Regular Pint Jar - 9
Wide Mouth Pint Jar - 9
Pint and a Half Jar - 10
Regular Quart Jar - 9
Wide Mouth Quart Jar - 9
Cooks faster and cleans easier
Canner is dishwasher safe
Hand wash and dry rack


These sturdy water bath canners from GraniteWare are lightweight, durable, and resistant to stains, acids, and odors. It is dishwasher safe and very easy to clean. They feature a mediterranean black porcelain-on-steel finish, complete with a white spray-on enamel. Other features include a high domed vapor seal cover with handle, and side handles on the 11.5 and 22 Quart styles. These GraniteWare water bath canners are a wonderfully versatile addition to your kitchen!

Note: This canner includes a galvanized wire rack with handles. Hand wash rack.
Note: Not for use on glass, flat top, or ceramic cooktops
Note: This product is designed for water bath canning and are not recommended for other uses.

We also offer a 7-Function Canning Kit to make getting started easy!