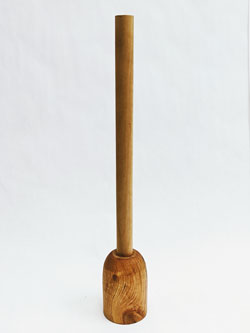 Specifications:
Length - 16.25 inches

OpcCPOUNDER


To pulverize cabbage and make sauerkraut you need a sturdy kraut pounder. Each vegetable pounder is hand carved here in the Blue Ridge Mountains. Made with sustainably harvested Black Cherry (Wild Cherry) and Black Locust. The large pounder head provides the maximum surface area for squashing cabbage. The long handle creates leverage, it'll pound the same amount of cabbage with less force than shorter handle pounders. A well made wooden sauerkraut masher should be handed-down through friends and generations. Wood is traditional and meant for the long haul. The longer a wooden tamper is used, the more worn and smooth it becomes. Just as no two trees are the same, the patterns and colors of our wooden stompers are all different. Be sure to use wood conditioner on these wooden stormers before using and from time to time throughout its life. This will keep the pounder from splitting and cracking.

Made in the USA Cabbage Kraut Pounders
Wild Cherry and Black Locust have beautiful colorful heartwood. Both species grow abundantly here on the Blue Ridge Plateau and in the forests of the East Coast. One at a time split logs from rounds are carved into Sauerkraut stompers on a lathe. Use this wooden cabbage packer to break down cell walls of vegetables so that juices can be released to aid in fermentation and pickling process.

Cherry rounds that kraut pounders in 2021 are made from: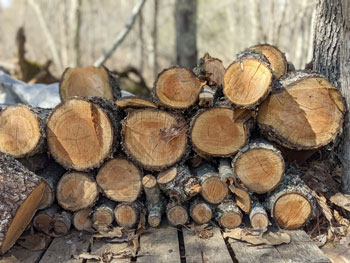 We select the wood used to make Kraut pounders based on availability. This description about kraut pounders was written in the spring of 2021, and we have abundant supplies of Black Cherry and Locust hardwood trees to last many years.

Brief History of our Handmade Kraut Pounders
The hardwood available does change from time to time. In previous years we've made wooden cabbage stompers from other appalachian hardwoods like hickory and oak. We've been hand carving wooden sauerkraut stompers since 2006. Tom, our owner, was a Forester before starting Red Hill and he grew up around woodworking his whole life. In Blue Ridge Mountain tradition, Tom was raised by parents who made sturdy furniture of all kinds - from trees they fell themselves - throughout the years in their woodshop. Tom has made hundreds of kraut mashers right here at Red Hill General Store. When we're not too busy, he enjoys carving a few each day after closing time at 5:00 pm. We have also worked with a few talented woodworkers living nearby. Jay, an older gentleman and lifetime woodworker, made pounders from 2009-2019 well after his retirement for extra income and for his love of working wood. We are recently working with a young man Jake who is a talented wood craftsman. Still in High School, Jake has a natural ability to carve perfect kraut pounder after perfect wooden stomper and enjoys the carving process that helps supplement his family's homestead income.

Buying our wooden pounders helps keep the wood working art and tradition of Appalachia alive.
Like our locally made wooden cabbage mashers? You might also like our wooden crock lids made by students at Carroll County High School. Here are some photos of our wooden vegetable mashers throughout the years: Almost finished pounder from May 2019. This one was made by Tom from a Black Cherry log split. Top and bottom in this photo would be cut off and sanded.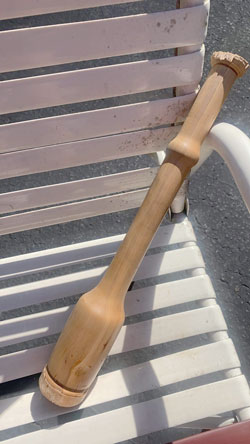 Pounder head made in 2020 outside of Red Hill General Store. The round stick will be attached once the head is complete.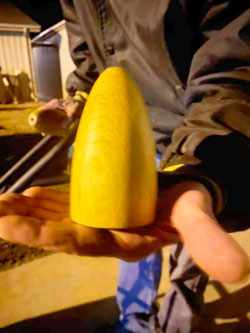 Pounder from 2018: isn't that wood grain beautiful?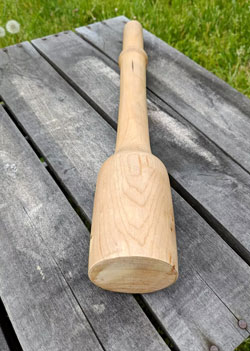 Cabbage mashers sold from 2015-2020 made by Jay.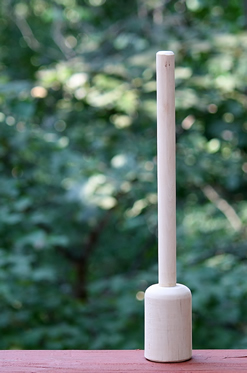 You Might Also Like

One Gallon Crock Weights
$10.99

Item #: Opco11655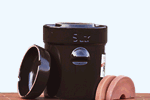 Five Liter Fermentation Crock with Lid and Crescent Weights
$74.99

Item #: Opc3205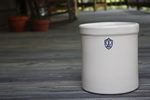 1 Gallon Ohio Stoneware Pickling Crock
$19.99

Item #: Opco02429