All American Pressure Canning Kits
Whether you are just getting started or have years of experience in pressure canning and preserving our All American Pressure Canning Kits offer a solution to your home canning equipment needs. You get three essential items at one low price. This special offer saves time, money and effort over finding, pricing and purchasing these items separately.*
Each kit includes
(1) Your choice of an All American Canner (10 quart, 15 quart, 21 quart, 25 quart, 30 quart, 41 quart).
(1) The Ball Blue Book
(1) Six Piece Canning Kit**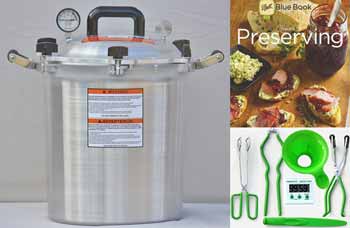 All American 30 Quart
Pressure Canning
Price: $531.99
Out of Stock
Available for Backorder
ETA: Will ship in 20 business days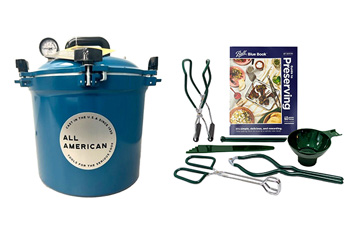 All American Blue 21 Quart Pressure Canning Kit
Price: $531.95
Out of Stock
Available for Backorder
ETA: Coming Soon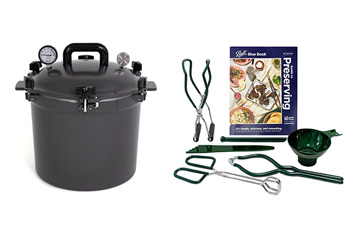 All American Gray 21 Quart Pressure Canning Kit
Price: $531.95
Out of Stock
Available for Backorder
ETA: Coming Soon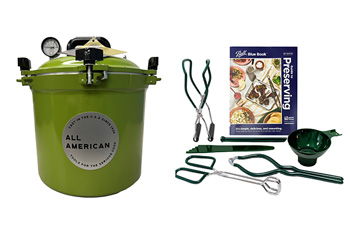 All American Green 21 Quart Pressure Canning Kit
Price: $531.95
Out of Stock
Available for Backorder
ETA: Coming Soon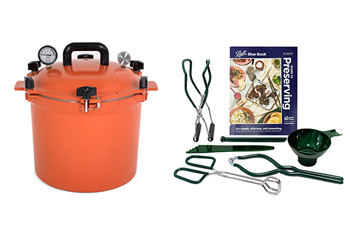 All American Orange 21 Quart Pressure Canning Kit
Price: $531.95
Out of Stock
Available for Backorder
ETA: Coming Soon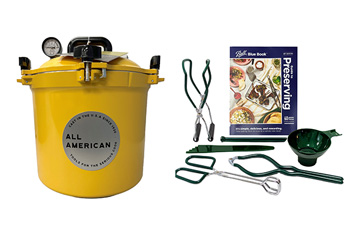 All American Yellow 21 Quart Pressure Canning Kit
Price: $531.95
Out of Stock
Available for Backorder
ETA: Coming Soon

All American Pressure Canners - The All American pressure canner features an exclusive, precision machined metal to metal sealing system. No gaskets to crack, burn or replace. Easy on-off cover. Positive action clamping wing nuts permit easy open and close. Equipped with two automatic venting features, safety control valve and overpressure plug. Extra heavy duty cast aluminum construction throughout for fast and even heating. Includes rack and instruction book.

Ball Blue Book - Guide to Home Canning, Freezing, & Dehydration. The Ball Blue Book is a comprehensive reference on the subjects of Home Canning, Freezing, & Dehydration. From the very basics to advanced techniques this book is sure to please everyone.

Six Piece Canning Kit - This set includes handy tools for all your canning needs. Includes a Canning Funnel, Bubble Remover, Lid Lifter and Jar Lifter.

*Savings is based on a individual purchase of each item in the canning kit. Purchase price for all the items in the canning kit individually would be $30.25.
*Warning: Six Piece Canning Kit contains DEHP, a chemical known to the State of California to cause cancer and birth defects or other reproductive harm.